After the recent update rolled out by Google, hundreds of webmasters started to loose rankings. Soon after its arrival the algorithmic update got its name – Penguin and its main purpose is to spot and report websites with over-optimized content and links. You can read the official description of the update at Google Webmaster Central.
From everything it appears that the best way to deal with the Penguin is to actually remove some of the best SEO practices, you have already applied. This is why the following guide is separated into On-site and off-site advice.
On-Site Advice
If your website is over optimized (If you still cant understand what over optimized website means, don't worry, I will show more examples to help you out), you are likely to get hit by the Google Penguin.  Here are some of the main areas of your website that deserve your attention:
META Tag Optimization
It is pretty common for many webmasters to mention their main keywords as much times as possible when writing the META data of their website. Although, this still works, it is actually targeted by the Penguin.  It is very important to remember that from now on, you are writing this data not for Google, but for your visitors. Include your main keywords only at places where they sound relevant and better focus on quality than quantity.
Page Content Optimization
We have all seen hundreds of websites containing content so obviously optimized for a certain keyword, that it barely makes sense. All this have to stop! Google is on their way to provide better quality in the SERPs and those websites definitely not add value. Websites with thin content can no longer rank so well in SERPs, so if you don't have a lot of content on your pages, you better get some.
Do not follow Keyword Density! Instead, make sure your website's content is relevant for your visitors, not only Google. To analyze the existing pages on your website, you can use either the SEOmoz On-page Optimization (paid) or Ranks.nl. Both tools will allow you to quickly see how many times exactly you are repeating your main keyword per page and optimize it for best user experience.
Internal Links
After the latest Google algorithm update, many webmasters claim that their internal linking structure was sending bad ranking signals to Google. The most common reason for this is using irrelevant or randomly generated anchor text for all their internal links.
No matter what CMS you are using, there is always a plugin to help you fix the internal linking structure without too much hustle. When defining the anchor-text, make sure you don't use the same all over your website, but instead implement long tail variations. For example:
SEO => http://www.yourwebsite.com/seo
SEO tips=> http://www.yourwebsite.com/seo
professional SEO advice => http://www.yourwebsite.com/seo
SEO services => http://www.yourwebsite.com/seo
Search Engine Optimization (SEO) => http://www.yourwebsite.com/seo
The more anchor text variations you implement, the better your internal linking structure is. As a final tip, remember to avoid adding too many internal links per post (more than 10 is too much) and also use different URLs for each link, because Google tends to ignore duplicate anchor URLs.
Off-Site Advice
The most common reason for webmasters to get hit by the Google Penguin update is their backlink profile. After this update, it is becoming more and more important to make your backlink profile look natural, so lets get started:
Anchor Text
The first thin you should check when examining your backlink profile is your anchor text. For a couple of years now, Google is constantly on the look for webmasters, who use the same or really similar anchor text all the time when linking to their websites. If you do this, don't think you will be able to get away from the Penguin anytime soon. Here is how the over optimized anchor-text works:
After looking at this diagram, it is more than obvious that using the same exact match anchor text all time is really likely to cause a penalty, especially when combined with links from low-quality websites. To avoid this, implement as much anchor text variations as possible (as for the internal links). Here is an example: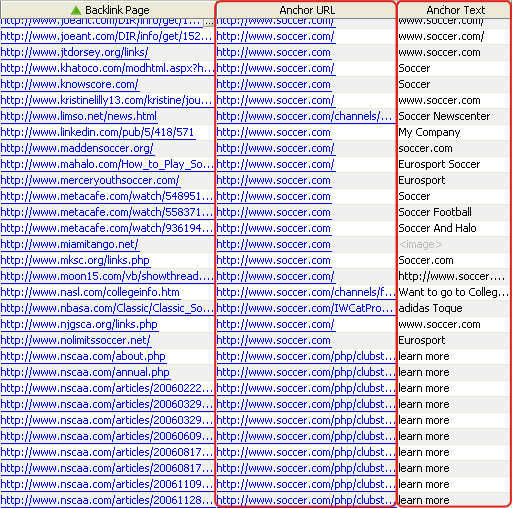 The more different anchor text you use, the harder it is for Google to penalize your website and spot over-optimization issues. It is a good idea to start using noise links (such as read more, learn more, click here etc.) in your strategy, since this will make your backlink profile a lot more organic looking.
A good strategy to implement is also using your URL as anchor-text.
Linking Websites
The time when getting 1000 links from 1 website was enough to get on the first page, is long gone. Today, the main goal of every webmaster is to get as many unique linking root domains as possible. This is no surprise, especially after SEOMoz released their ranking factors this year:
To make your backlink profile better, find as many relevant websites as possible and get links from them. Fortunately, you don't always have to write articles, you can just leave quality and relevant comment with link to your website. However, make sure you use your name, not just anchor-text, since you might not get approved.
Another way to get some good links from relevant websites is to produce some kind of viral content, relevant for your niche. A good example is an infographic.
It takes no more than a day to come up with an idea and about a week to get it designed (this depends on your designer off course), so this is like the easiest way to spice up your backlink profile.
Many people think, yes I can get an infographic created, but where I am going to distribute it? Dont worry about that, there are literally hundreds of websites, where you can host your infographic, you just have to contact their owner and get his approval. We are working on an infographic distribution guide, so keep an eye on our blog for a list with such websites.
In addition to that, you can always promote your infographic in blogging communities such as Myblogguest and Blogengage. Recently, Myblogguest launched an infographics gallery, so you only need a couple of 200 word descriptions for your infographic and you will get some good links from relevant blogs.
If you used other strategies to beat the Google Penguin Update, share them in the comments